Because of the amount of entries we received and the fact that
Matt is very generous, he decided to put some additional packages together for a couple of lucky runners-up.
The winner of the contest is
Rob Wesner
of Kalamazoo, MI.
He will be getting-
1
Pocket Pistols Skates
Matt French 'Lion'
Skateboard with artwork by
Jim Phillips
195 Delta Ceramcoat acrylic craft paints

3 Grumbacher brushes

15 Faber-Castell Pitt india ink drawing pens

6 Astra neon color pencils from Chartpak

From Bienfang:

2 9"X12" spiral-bound sketchbooks

3 9"X12" 50 sheet pads of Graphics 360 commercial drawing paper

1 14"X17" 50 sheet pad of Graphics 360 drawing paper


...and 1 vintage military rucksack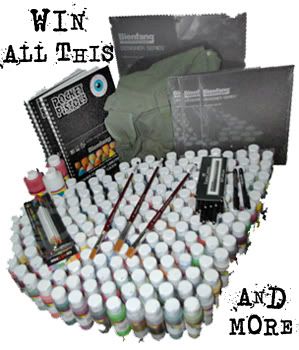 The Runners Up are-
Bobby Brown
and
Frank Devon
PPS wanted to thank everyone that entered the contest as well as Matt French for providing the winnings.