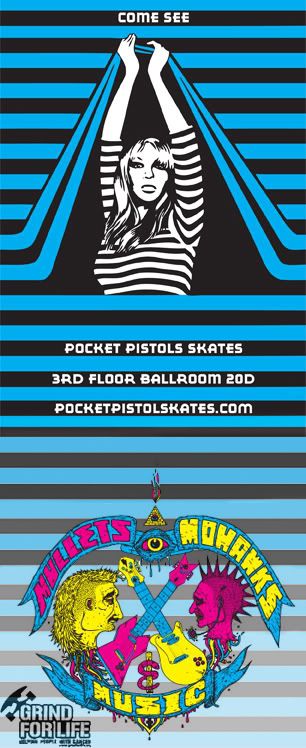 POCKET PISTOLS SKATES IS GOING TO BE IN THE
GRIND FOR LIFE CHILL ZONE
WITH
FUNDAMENTAL DISTRIBUTION
,
HOSOI SKATES
AND MORE....
This years lounge is bigger, better and badder than ever! With over 10,000 square feet of hair cutting stations, artwork, skateboard history, music, skate contests..oh yeah and we'll throw in a little business as well!
So get the business done up front and then get the party going on out back. During the day the Chill Zone is an ideal place to host meetings, recharge batteries and brains, educate your self on helping people with cancer and meet the awesome sponsors who support Grind for Life and the Chill Zone Lounge!
This years Lounge theme is "Mullets, Mohawks and Music" and will feature Paul Mitchell hair cutting stations, Art displays, Photos by Désirée Astorga for Keep a Breast, Skateboard History display and Auction items by Dale Smith, and on Friday a book signing by Mike Ballard (skatebook.tv), killer music by Whole Hog and DJ guests, the premiere of the DC Shoes "High Ollie Challenge"! …and of course free beer! All to benefit the Grind for Life !
So the place to be is Ballroom 20D!!
Also check out our homies at
SABRE VISION