Pocket Pistols Artist
MATT FRENCH
has put together a bunch of art supplies and a skateboard to give away this month.
All you have to do is enter by submitting your informationa and putting "CONTEST" as the subject
and a short reason why we should pick you.
Good Luck.

CLICK ON THE LINK ABOVE AND ENTER
www.pocketpistolskates.com
Here's what is being given away:
1
Pocket Pistols Skates
Matt French 'Lion'
Skateboard
with artwork by
Jim Phillips
195 Delta Ceramcoat acrylic craft paints

3 Grumbacher brushes

15 Faber-Castell Pitt india ink drawing pens

6 Astra neon color pencils from Chartpak



From Bienfang:

2 9"X12" spiral-bound sketchbooks

3 9"X12" 50 sheet pads of Graphics 360 commercial drawing paper

1 14"X17" 50 sheet pad of Graphics 360 drawing paper


...and 1 vintage military rucksack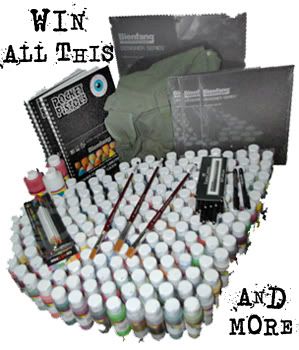 Matt is an insane artist and his work has been featured in the
Volcomics 'zine
and he has done art for numerous companies such as
Volcom
,
Grenade Gloves
,
Super Rat Motorcycles
and a lot more.
With Matt's help we enlisted both Jim Phillips and VCJ to come back to the skateboard industry and do graphics for Pocket Pistols.
Thanks Matt.
Check out more of his art at his
Artist Profile on Volcom.com
Matt French- Hippie Jump Board Transfer